Hello heartbreakers! I hope you are having a "fantastical" weekend! I decided to talk about romance for a change. Well, by romance I mean the string of shocking divorce announcements that have recently occurred. Some of the hottest celebrity "it" couples have been calling it quits lately. And I'm not talking about people who pulled a Kim Kardashian, I'm referring to couples who seemed like they were
truly
going to make it
as naive as that sounds
. You know...the ones who seemed normal and stable. First there were whispers of Jada and Will ending their marriage.
This is probably the most "shock worthy" break up
and it hasn't even officially happened yet
! For months, these two have denied rumors that they were headed for splitsville. Something some "insiders" say was caused by their differing opinions on how to raise their children(career-wise). They have publicly denied divorce claims, but a new insider now claims Jada has moved out of their home this week and into her brother's house. The "insider" says the two A- listers are trying to end things slowly so the kids don't get hurt in the process. A divorce announcement should be coming any day now...ugh!
Demi Moore and Ashton Kutcher threw in the towel a few weeks ago...officially. After spending months fighting off rumors that Ashton was having an affair with multiple young women. As it turns out, he was and Demi has now gone all "cray cray." She's now battling anorexia and doing "whip-its." Meanwhile, Ashton is out partying with every young groupie he can get his hands on....smh. I just can't!
And let's not forget the California girl herself...
Katy Perry said goodbye to hubby Russell Brand. News of their divorce recently made headlines too. I must admit, I thought they were a strange pair from the start. I don't really take him to be the kind of guy that likes women. But they seemed strangely happy together, so I thought they just might make it. What a shame!
Heidi Klum and Seal also pulled a shocker when they announced their split last week.
I would say this was the 2nd most shocking divorce of them all. I mean, people LOVEEEE Heidi and Seal together, and their story was so romantic and sweet. They seemed generally very happy. But looks can be deceiving. Too bad there's no happy ending, or isssss there?? Oddly, this divorce announcement comes just in time for seals new album release lol. He's been milking the situation and doing interviews all this week too! Part of me wonders if this is just a publicity stunt. But I don't see them being the kind of couple that would go that low. You never know...anything is possible in hollyweird!
And lastly, here's another divorce that was pre-announced this week. Meaning the couple hasn't actually filed yet, but sources say the odds of a divorce announcement soon are looking HELLA good. According to Star Magazine, Gwen Stefani and Gavin Rossdale are ending their 10 year marriage because Gwen can no longer trust him.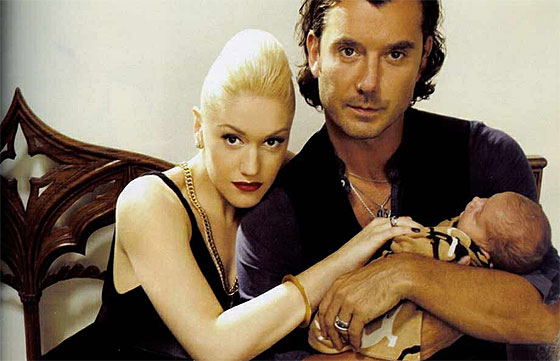 I can't blame her. Throughout their marriage, he's revealed tons of secrets. Two years into their marriage, Gwen found out Gavin had a secret child(who was almost a freaking teenager by the time the secret came out). Her name is Daisy Lowe and she is now
old enough to be in Playboy
23 years old.
In 2009 another big secret came out
of the closet
. It was revealed that Gavin carried on a long affair with a fellow by the name of Peter Robinson (who looks a lot like Gwen in my opinion).
Gavin admitted to the affair and Gwen decided to stay by his side. But the latest "secret" came out in 2010 when Courtney Love admitted in an interview with Howard Stern that Gavin cheated on Gwen with her and multiple women for years! Seriously, who hasn't slept with this guy ??? I don't blame you Gwennie. Leave him and
head straight to the clinic for some lab tests
do what is best for you!
So what's the moral of the story? Hollywood marriages just weren't meant to last. There's always a scandal, groupie, or better PR opportunity waiting around the corner. And the happier the couple seems in public, the more they are hiding.